On our hosting daily backup copying is performed automatically. In addition, you can make and restore copies through the control panel automatically.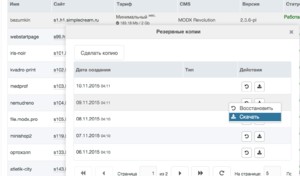 If you want to secure yourself additionally and rollout the current website condition to a home computer, we offer you to use this mode:
Enter the server console
Execute the command


wget https://modhost.pro/dists/backup.sh -O ~/backup.sh && chmod +x ./backup.sh && ./backup.sh


At the startup, you will have to indicate your password for MySQL and the script will make a database dump
After the work, the archive with a backup copy and backup.sh will remain in your website root. From time to time, you will be able to launch them manually and rollout backups through SFTP.
Pay attention that every copy takes your space, that is why you should have enough empty megabytes. If there is not enough space, the archive with a backup copy will be generated defective and will not be able to unpack.