We do not have our own e-mail server, there is a simple reason that e-mail for domains in Yandex provides all you need for free. Using this service you get:
Addresses type user@mydomain.ru
Required quantity of mailboxes (by default 1000)
Convenient interface to control e-mail accounts (mailbox blocking for fired employees and giving mailboxes to new ones, passwords change and etc.)
The facility to install the logo of your organization on Mail web-interface.
Unlimited capacity of mailboxes
Secure defense system from spam ad viruses
Access to the mail through web-interface (from any computer) and mail programs POP3/IMAP
Access to your mail from mobile phones
Calendar for working day administration, meeting timetable and business list management
Convenient instruments to work with letters in web-interface (browsing of "office" documents, downloading of all files in one archive, filters and marks for convention correspondence sorting and etc.)
Various additional facilities (address on default, domain aliases, mailboxes aliases)
As you know, any hosting will not be able to compete with such an impressive list
Connection
First of all, you have to add your domain и to confirm the right to control the domain by any convenient way.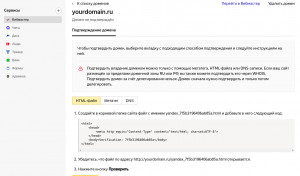 Then you need to move the MX and TXT records to the DNS settings so that all other mail servers know exactly how you are receiving the mail.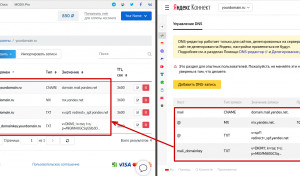 Now you can create new e-mail for your domain. Go to https://connect.yandex.ru/portal/admin/ and click "Add"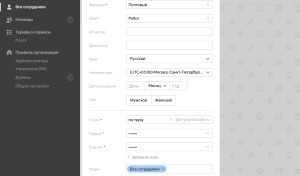 Then you have to login and accept terms:
Yandex SMTP usage in MODX
Yandex SMTP usage let you send letters from its server and it gives you DKIM signature and SPF validation and it contributes to message delivery to different recipients.
All setting of MODX mail are kept in the individual section: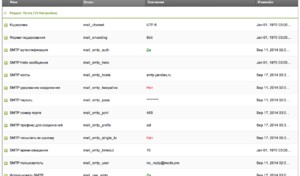 To turn on the mail sending through Yandex servers, you have to change the following parameters:
mail_smtp_auth - yes
mail_use_smtp - yes
mail_smtp_port - 465
mail_smtp_prefix - ssl
mail_smtp_hosts - smtp.yandex.ru
mail_smtp_user – your specially designed individual mailbox for distributions, for example no-reply@mydomain.ru
mail_smtp_pass – password from this mailbox, that was given when it was generated
Or you can install yaSMTP and this settings will be will be set automatically.
You can check mail sending with QuickEmail package.
[[!QuickEmail?
    &to=`my-mail@mydomain.ru`
    &debug=`1`
]]
As soon as you are sure that there are no mistakes and you receive letters – you can delete this package.
Note
On free tariffs you cannot send mails though our server, to avoid the usage of testing websites by spammers.
However, sending letter through Yandex SMTP will work without trouble.